Everything you need to know about Axix Corian® sinks
Posted by Whitehall on 28th Feb
Axix Corian® sinks – Here's what you need to know
The Axix Corian® sink is a brand new design from The 1810 Company. It features Corian® side walls that are matched to worktops for seamless results.
The beauty of a Corian® kitchen worktop is that it brings together your whole space. It's easy to accommodate features, such as sinks, hobs and splashbacks without unsightly joins. This is one of the features that sets a solid surface worktop aside from the alternatives.
Manufacturers and fabricators who work with Corian® are constantly finding new ways to tap into the product's versatility with inventive new designs.
This shows in the design of the Axix sink from The 1810 Company. They've created a special under-mount sink with a lip around the base. The structure allows for Corian® panels to be inserted over the interior side walls of the sink, sitting snuggly on the lip base.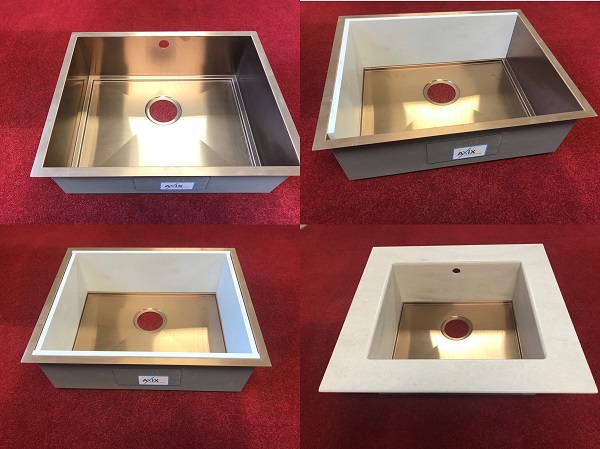 The sinks are built in three easy steps:
1) Four pieces or Corian® are cut and inserted into the sink to sit on the lip.
2) The pieces of Corian® are fixed together.
3) The completed sink is then under-mounted into the worktop.
The finished result is a seamlessly integrated sink that doesn't interrupt the overall appearance of the surface. And because Corian® is so durable, Axix sinks are also hard-wearing and easy to keep clean.
The benefits of Axix Corian® sinks – at a glance
It's leak-proof, as the Corian® lining is backed by the metal structure
The side walls are the same colour as the worktop
The base sink can be stainless steel, gunmetal or copper
There are four different sizes are available
It's suitable for use with a boiling water tap
The inventive design from The 1810 Company has brought together style and practicality. It enables an additional layer of personalisation for customers wanting to create a bespoke worktop system, designed exactly around their preferences.
Axix Corian® sinks are just another example of the many ways Corian® can be used to create unique kitchens that stand the test of time.
Would you like to find out more about Axix Corian® sinks? Talk to our experts about incorporating one within your next kitchen design.
Back to blog