Tap in to the timeless appeal of natural stone surfaces
Posted by Whitehall on 03rd Feb
Over the past decade or so, we've seen a massive increase in the uptake of synthetic materials, like Corian®, in interior design. The affordability and versatility of synthetic surfaces makes them a useful tool for designers and contractors alike.
But there's one surface material that's always stood out as a firm favourite. Natural stone surfaces such as granite and quartz are specified for their quality and originality. Offering your customers the ability to add natural stone into their kitchen or bathroom is a simple way of distinguishing and elevating your designs.
Here's our quick guide to the key benefits of offering your customers natural stone surfaces:
BENEFIT 1: A natural stone surface is completely unique
Granite and quartz stone have been compressed underground for millions of years, making them wholly natural and one-of-a-kind.
Customers love the idea of having a beautiful piece of the earth's fibre displayed in their homes. And although this may slightly affect the price, people are willing to pay a little extra for something authentic that's unique to them.
BENEFIT 2: Durability
Built from 100% solid rock, natural stone surfaces are incredibly durable and hard-wearing. Almost impossible to scratch, a quartz or granite work surface will last years without any visible signs of wear or tear. Once treated, a natural stone surface is also impermeable to heat and water, making it resistant to common stains.
BENEFIT 3: Timeless elegance
The beauty of natural stone surface is something that's highly sought after by customers. Whatever your style or colour palette, the timeless elegance of a natural stone work surface will bring your design to life.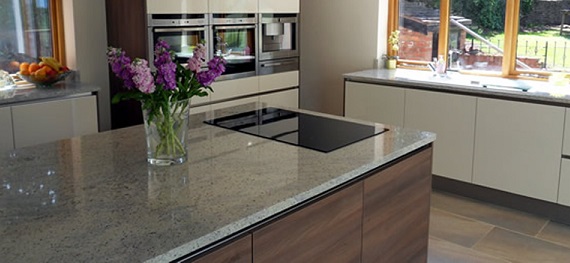 BENEFIT 4: Add value to your property
Wherever price is concerned, your clients are likely to be wary. But a natural stone surface can actually have the benefit of adding value to your home.
A kitchen can add up to 6% to the value of a property and natural stone work surfaces are something buyers look for due to their quality and life-span.
BENEFIT 5: Choice of design
Granite and quartz surfaces come in a range of colours and finishes to suit your clients' needs. From deep night-time blacks to clean, neutral whites, they're the perfect natural stone work surface to complete any design.
Want to offer your customers luxury and practicality? Talk to our experts about a natural stone work surface for your next project.
Back to blog