Unexpected ways Corian® can enhance your kitchen design
Posted by Whitehall on 21st Jul
In the kitchen design world, Corian® is widely accepted as the leading synthetic work surface material on the market. A cost-effective alternative to natural stone, Corian® is favoured due to its versatility, durability and stylish finish.
(Read our blog 'Corian® vs. natural stone' to find out more about their differences.)
However, a lesser-known fact about Corian® is that its capabilities extend far beyond just work surfaces and it can be used to create a range of unique design features. Check out these unexpected uses for Corian® in the kitchen and see if you're pleasantly surprised:
Seamlessly integrated splashbacks
Splashbacks are essential for ensuring that the wall space around your hob and sink remains protected from grease, water and heat damage. But tiles are often expensive and depending on style preferences, can detract from contemporary designs.
Corian® offers a clean-cut way of seamlessly blending your splashback into the rest of your design. Not only that, but it's non-porous, impermeable and won't get damaged by heat or stains, so represents a worthy long-term investment.
Inbuilt sinks, draining board and hob racks
Joins between appliances can equally disrupt the flow of your kitchen design, making the space feel smaller and less sleek. To combat this, DuPont created their own range of Corian® sinks, which blend seamlessly with your surface for increased flow.
But why stop at the kitchen sink? With expert fabrication, Corian® work surfaces can be built to include draining grooves, chopping boards and even hob cooling racks, transforming your surface into a multifunctional appliance in itself.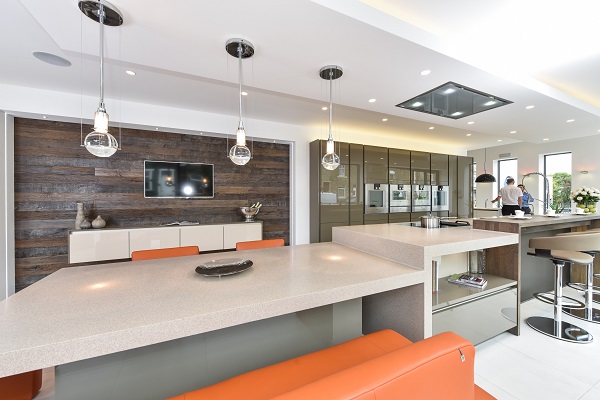 Custom islands, breakfast bars and tables
Modern kitchens are the hub of the home, a place for eating, working and entertaining, and custom islands provide a central area for the whole household to congregate.
Solid surfaces, like Corian®, make it even easier to offer this design feature as the work surface can be wrapped around to create sides and ends and elongated horizontally to create a table edge. The flexibility of Corian® means there is no limit to the creative shapes that can be achieved. What's more, whole structures can be designed simply and effectively.
Feeling inspired? Talk to our experts about using Corian® solid surfaces for your next kitchen design project.
Back to blog