Kitchen design trends to watch out for this spring
Posted by Whitehall on 14th Feb
As solid surface fabrication advances, so do the opportunities to create increasingly stylish, yet functional kitchens.
The flexibility of synthetic surfaces like Corian®, Krion® and Hi-MACS® makes them perfectly suited to bespoke kitchen designs, where work surfaces can be seamlessly integrated for stunning results.
We've written before about the timeless benefits of solid kitchen work surfaces, but how do these surfaces lend themselves to current design trends?
Here we select 5 kitchen design trends for spring 2020 to explore how solid surface fabrication can help you achieve them:
1. Stripped back and industrial
The raw and industrial feel that has dominated coffee shops, bars and retail spaces over the past year or so has firmly taken root in contemporary kitchen design.
Exposed features, like brick and copper pipework, are contrasted against raw materials, such as wood and solid stone effect surfaces for a stripped back, urban-renewal approach.
Inspired partly by Scandinavian design, which pairs utility with beauty, solid surfaces feature as the durable centrepiece of kitchens designed to elegantly complement everyday life.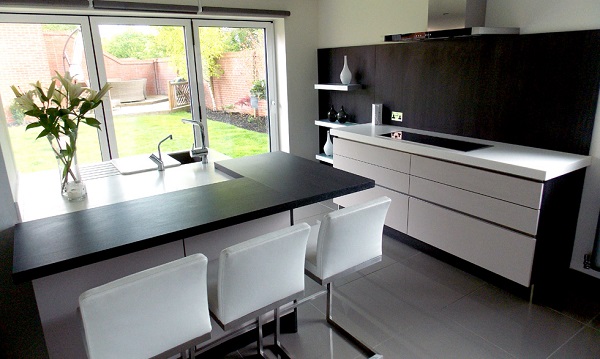 2. Going monochrome
Using black, white and grey tones for your kitchen design is not only a style statement, but it creates a clean space which can be styled around your unique preferences and accent colours.
See a monochrome kitchen as an investment; you may eventually go off bright, busy textures and colour schemes, but a clean white, black or grey work surface is going to remain timeless even as kitchen décor trends come and go around it.
3. Clutter-free and minimalist
As technology simplifies everyday household tasks, the need for life's paraphernalia has begun to subside. Kitchen designs now focus on minimising the amount of clutter we have on display to create clean lines and sleek spaces.
Handless units and a clean, cohesive work surface are the basis of this look with synthetic materials like Corian®, allowing you to create statement surfaces in any style and thickness. A durable solid surface provides the perfect contemporary backdrop to a smart, minimalist kitchen.
4. Balance your patterns
Using texture and colour to add originality is something that can elevate your kitchen design and deliver natural elegance. Rather than choosing bold wallpapers or flooring, use surfaces to add in natural pattern. Interiors experts, Ideal Home magazine, advise:
'Opt for plain units and inject some colour and pattern elsewhere. Surfaces with a bold pattern are big right now, and hardwearing solid surfaces copying natural patterns mean that previously unsuitable materials such as marble can be replicated to give the look without the cleaning and durability issues.'
5. A clever utilisation of space
As the size of new homes get smaller, designers are coming up with new ingenious ways to save space and keep kitchens practical and aesthetically appealing.
Nifty units, disguised appliances and wall-mounted storage get the best from every square metre, while seamlessly integrating sinks, hobs and draining grooves into your work surface helps create the illusion of added spaciousness.
Have you been inspired by any of these trends? Talk to our experts about creating a contemporary solid surface for your next kitchen design project.
Back to blog