Spotlight on… Solid surface vanity tops for bathrooms
Posted by Whitehall on 20th Dec
Solid surface vanity tops – The must-have bathroom trend
Solid surface countertops have become a much-desired feature within modern bathrooms, particularly towards the luxury end of the spectrum.
Bathrooms are about so much more than practicality and, nowadays, many people also see their bathroom as a place to pamper, relax and unwind. As such, homeowners are dedicating a little more time and money to creating their dream space.
Hotel-style luxury in the home
Solid surface vanity tops are surface units with in-built sinks, usually positioned under a mirror. They provide multipurpose areas to wash, groom and prepare for each day and can include storage for everyday bathroom essentials.
Bespoke vanity tops are completely customisable and can be fitted in homes of all sizes, providing a luxurious centrepiece to any bathroom design.
This blend of style and practicality is one of the main reasons these units have become so popular. A combined sink and surface vanity top has the streamlined appearance of a single surface, while being extremely practical to use and maintain.
Bespoke bathroom vanity units can include:
• Seamlessly integrated sinks
• Bowl sinks positioned atop the surface
• Duel or 'his and hers' sink basins
• Drawers or cupboards underneath
• Splashbacks and other practical features
• Integrated taps and plumbing
Synthetic solid surface materials like Corian ®, Hi-MACS ®, Hanex, Staron and Krion are ideally suited for bathroom worktops. The versatility of these materials enables units to be designed and fabricated to fit the exact dimensions of a room, helping them sit perfectly within their finished surroundings.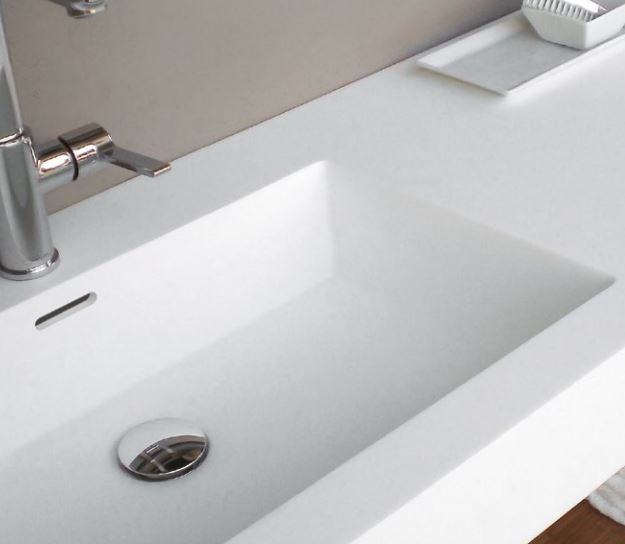 Why choose a solid surface vanity top?
1. Custom-built to fit your space
2. Hundreds of colours, styles and finishes to choose from
3. Sleek, seamless installation with minimal grouting
4. Easy to wipe down and keep clean
5. Mould and mildew-resistant
Building a solid surface bathroom countertop is an investment in the longevity of a bathroom. And if the aesthetic appeal isn't enough to persuade, then we're sure the durability is. Solid surfaces are incredibly hard-wearing and difficult to damage. Not only that, but professionally installed solid surfaces come with up to 15-year manufacturer's warranty.
Would you like to talk to the Whitehall team about your bathroom design project? Get in touch today via email on info@whitehall-uk.com or call 0113 222 3000.
Back to blog